"Tropenarts gezocht"
Tropenarts gezocht
Artikel door Roeland Voorhoeve, 7-4-2020.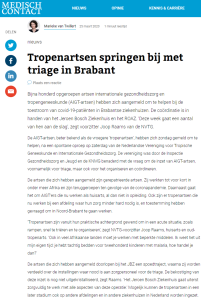 Medisch Contact, 25-3-2020.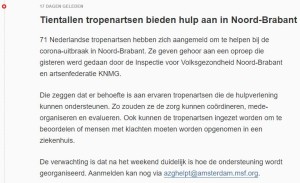 NOS, 22-3-2020.
28-29 May 2020
Chirurgendagen
Annual meeting of the Association of Surgeons in the Netherlands.
Unfortunately, due to the corona outbreak, this meeting has been cancelled. We hope to welcome our inspiring speakers at a different moment. Our topics will remain important: the (dis)balance in Global Surgery, and how the Dutch surgeon can contribute to the training of our new generation. Thanks dr Jaymie Ang Henry (surgeon, founder of the G4 alliance, and producer of the film "The right to heal") and professor Pankaj Jani (chair of COSECSA and professor in Surgery in Nairobi), for all preparations, we will meet again!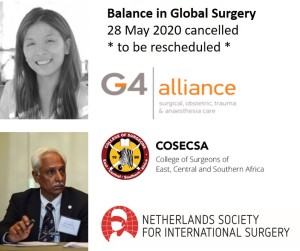 ————————————————————————————————————————————————————————-
20-24 July 2020
Summer School Global Surgery
ON HOLD due t corona outbreak, update will follow soon. 
A unique summer school emphasizing the essentials of surgical care with a world wide perspective.
Have a look at the research contest, see poster under!
Where: University medical center Utrecht, the Netherlands.
For whom: surgical residents, clinical officers, residents in international health and tropical medicine, medical doctors and medical students with an interest in global surgery.

contest Globalsurgerysummerschool2020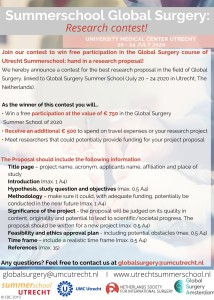 2020
Call for surgeons: become visiting faculty in Africa, via G4 Alliance
Our G4 Alliance member the College of Surgeons of East, Central & Southern Africa (COSECSA) is looking for support to train surgeons in their region. Specifically, COSECSA is seeking surgeons to come over to any of the 80 accredited hospitals in 17 countries in their region, for at least two weeks duration, to assist in training their trainees. Such surgeons (including those nearing retirement or recently retired) would come as Visiting Faculty to COSECSA training sites at these hospitals, which are accredited by COSECSA and by the licensing councils of each country.
Interested surgeons or organizations may contract G4 Alliance Permanent Council Vice President Prof. Pankaj Jani at pjani53@gmail.com for more information.