>> For past events have a look at our newsletters! <<
10-14 July 2023
Summer school Utrecht.
The Global Surgery & Obstetrics/Gynaecology summer course provides a unique overview of topics related to Global Surgery, Gynaecology and Maternal care, with an emphasis on essential surgical care from a worldwide perspective. A great variety of topics will be discussed in interactive lectures, case study sessions and small working groups with experts in the field. The diverse composition of speakers and participants from all over the globe guarantees a unique opportunity to connect and learn from different backgrounds and viewpoints.
Global Surgery & OBGYN | Utrecht Summer School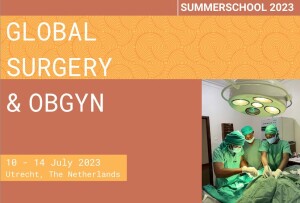 13 February 2023
BASICS OF GLOBAL SURGERY FOR AIGT – A practical course on open fractures and burn care in LMICs will take place on February 13th, 2023 at the Amsterdam Skills Centre.
This course offers hands on training in external fixation of fractures as well as theoretical summary of fracture treatment and burn care in low resource settings.
Target Audience: AIGT in training / residents trauma surgery / residents orthopedic surgery
Basics of Global Surgery, Part 1: A practical course on open fractures and burn care in LMICs – Amsterdam Skills Centre (asc.amsterdam)

22-26 August 2022
Summerschool surgical oncology Malawi, for residents in Malawi.
Organised by NSIS, GSA, COSECSA and others.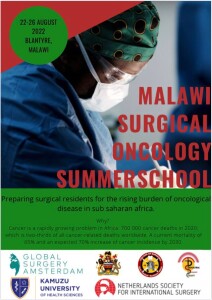 11-15 July 2022
Summerschool UMCU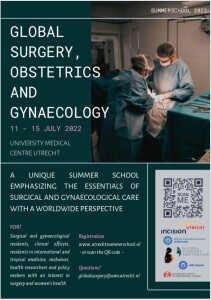 19 May 2022
Chirurgendagen at World Forum Den Haag, the Netherlands. Theme: connection. 
We are happy to meet each other again, and are very proud to present to you:
Jurre van Kesteren, Taymoor Ashgar and Peter Kingham.
Connection is exactly what Global Surgery is about! Stories from Nigeria and Sierra Leone will be presented and there will be time for questions from the audience.
Chaired by Marije Gordinou and Schelto Kruijf, we are looking forward to an inspiring symposium!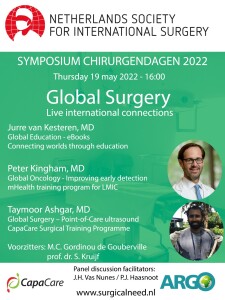 29-31 October 2021
DTC annual conference on Global Surgery
We visited our valued DTC colleagues (Deutsche Gesellschaft für Globale und Tropenchirurgie) in Bonn. Lots of inspiring presentations by speakers from all over the world. For more interesting events, see http://globalsurgery-germany.de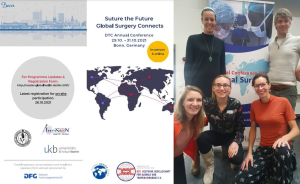 15 October 2021
Looking forward to the PhD defense ceremonies of Matthijs Botman en Thom Hendriks on 15 October 2021, location AUMC/ VU Amsterdam. As NSIS colleagues we are extremely proud!
Thesis Thom: Think Global, Act Local: Burn-care in a resource-limited setting
Thesis Matthijs: Beyond short-term surgical missions
In the afternoon there is a symposium on the need for international collaboration to improve surgical care worldwide. The focus will be on opportunities for research and education in global surgery. GSA Symposium Poster 2021 FINAL
https://us06web.zoom.us/webinar/register/WN_QMktp0e9QS26jW15mxPC8Q?fbclid=IwAR1Du6l5X5__VcKj3YGirqLtwVP6qLUdNTufq8E4_WpUUqe7QRXuBRa8Ofs

2020
Call for surgeons: become visiting faculty in Africa, via G4 Alliance
Our G4 Alliance member the College of Surgeons of East, Central & Southern Africa (COSECSA) is looking for support to train surgeons in their region. Specifically, COSECSA is seeking surgeons to come over to any of the 80 accredited hospitals in 17 countries in their region, for at least two weeks duration, to assist in training their trainees. Such surgeons (including those nearing retirement or recently retired) would come as Visiting Faculty to COSECSA training sites at these hospitals, which are accredited by COSECSA and by the licensing councils of each country.
Interested surgeons or organizations may contract G4 Alliance Permanent Council Vice President Prof. Pankaj Jani at pjani53@gmail.com for more information.