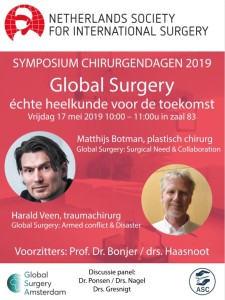 16-17 May 2019
Chirurgendagen
In 2019 staan de chirurgendagen in het teken van ECHT Heelkunde. ECHT Heelkunde vóór en over ECHTE chirurgen. Als ECHTE chirurgen staan ons uitdagingen en kansen te wachten vanuit Hoofdlijnenakkoord en maatschappelijke vraagstukken. ECHTE chirurgen nemen hierin de regie, zoals ECHTE chirurgen in complexe patiëntenzorg gewend zijn.
De NSIS zal een symposium verzorgen over ECHTE Global Surgery. Onderwerpen die aan bod komen zijn de stand van zaken van Global Surgery in de wereld, en er zal een interessante spreker over oorlogschirurgie komen spreken.
20-28 May 2019
72nd World Health Assembly
The World Health Assembly is the decision-making body of WHO. It is attended by delegations from all WHO Member States and focuses on a specific health agenda prepared by the Executive Board. The main functions of the World Health Assembly are to determine the policies of the Organization, appoint the Director-General, supervise financial policies, and review and approve the proposed programme budget. The Health Assembly is held annually in Geneva, Switzerland.
The WSES is a unique society that brings together both some of the world's most recognized surgeons in emergency and trauma surgery, as well as surgeons facing the challenges of acute care in developing countries. WSES truly is a worldwide society.
In the 2019 edition of our annual congress we will:
- learn from invited lectures by internationally experts
- share results of latest studies presented by young clinical and basic researchers
- discus new and update existing clinical practice guidelines
Speakers will be -amongst others- Roeland Voorhoeve (NSIS) and Robert Bleichrodt.
8-12 July 2019
Summer School Global Surgery
Win free participation in our Global Surgery Summer School in July!
By writing the best research in this contest, you win free participation and more. Prijsvraag GSSS 2019
https://www.utrechtsummerschool.nl/courses/life-sciences/global-surgery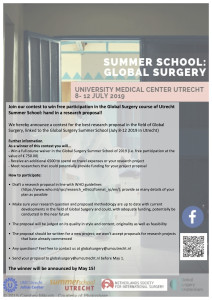 This summerschool will provide a unique overview of the topic Global Surgery, with an emphasis on essential surgical care in a worldwide perspective. A main topic will be surgical research and how to collect data in Low and Middle Income countries (LMICs). During the week there will be both theoretical and practical surgical workshops as well as experience based stories from experts in the field. In the practical workshops you will be trained in external fixation of fractures and bowel anastomosis techniques, among others.
This course is organised by the surgical department of the UMC Utrecht in collaboration with the Netherlands Society for International Surgery NSIS.
11-15 August 2019
The International Society of Surgery (ISS) / Société Internationale de Chirurgie (SIC) is proud to present the 48th World Congress of Surgery (WCS) – formerly International Surgical Week (ISW) – in Poland from 11-15 August 2019.
Engaging and insightful, the World Congress of Surgery 2019 will be unlike any other meeting. Offering scientific excellence in the field of surgery at an affordable price, the event will bring together many of the world's leading experts. WCS 2019 will also provide a platform for scientific and clinical working groups where they can collaborate to establish the foundations for future diagnostic and surgical challenges, and discuss novel approaches and standards, facilitating progress towards real-time, patient-oriented solutions.
4-7 September 2019
Viking Rural Surgeons' conference
Yearly conference in Iceland.
25-27 October 2019
Annual conference of DTC: Global Surgery – infections and education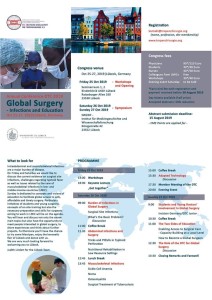 21-24 November 2019
Annual conference of ARSI
This conference by the Association of Rural Surgeons of India is at Bagalkot Medical College and the nearest airport is Hubli which is about an hour flight from Bangalore. Registration fee is INR 5000 ($75) and this includes all meals. There is a pre-conference cadaveric workshop for INR 500. Important personalities are invited to encourage practising rural surgeons and to motivate new surgeons to go to the peripheral places to offer their services. New useful technologies are being discussed. It is also a platform to discuss the problems of rural surgery.
—