21-26 May 2018
71st World Health Assembly
Geneva Switserland.
The World Health Assembly (WHA) is the forum through which the World Health Organization (WHO) is governed by its 194 member states. It is the world's highest health policy setting body and is composed of health ministers from member states. The members of the World Health Assembly generally meet every year in May in Geneva, the location of WHO Headquarters.
24 May by WHO Global Initiative for Emergency and Essential Surgical Care (GIEESC):
WHA 71 Global Surgery Side Event May 2018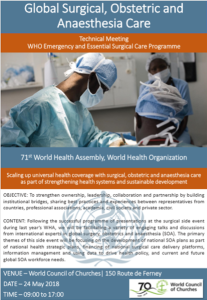 24-25 May 2018
Chirurgendagen, thema Grenzen@Surgery
Mini-symposium by NSIS: Thursday 24 May, Genderzaal, 14-15h. A roadmap to global Surgery.
Mini-symposium appendicitis: Thursday 24 May, Zaal 83, 13-14h. Appendicitis over de grenzen. 
Veldhoven, the Netherlands
flyer chirurgendagen 2018

31 may 2018
Van 31 mei tot en met 2 juni 2018 zal in het Okura Hotel in Amsterdam het ScarCon ETRS congres plaatsvinden. Tijdens het congres worden de meest recente ontwikkelingen op het gebied van fibrose belicht in de breedste zin van het woord. The co-hosts zijn de Global Scar Society, Scar Academy, Oscare, VU medisch centrum, Dutch Burns Foundation, Association of Dutch Burn Centres en de French Wound Healing Societies. 

NSIS bestuurslid Thom Hendriks zal op vrijdag 1 juni een presentatie geven. Hij wordt voorafgegaan door AIGT i.o. Nathan Beijneveld.
29 September 2018
Acute abdomen and bowel anastomosis & Wound care and tendon repair.
Course and workshop for AIGT (MD Global Health and Tropical Medicine)
Location will be announced later
10-13 October 2018
Announced through WHO GIEESC and the Société Internationale de Chirurgie Orthopédique et de Traumatologie (International Society of Orthopaedic Surgery and Traumatology, SICOT):
39th SICOT Orthopaedic World Congress
Once again being held in the beautiful city of Montréal. Abstract submission is currently open.
For additional information: http://www.sicot.org/montreal
Later in 2018
Amsterdam Skills Centre, an innovative project by the AMC/VUmc alliance with training possibilities for national and international surgeons/ surgical residents.