14 September 2019
GASOC conference, Leeds.
You are invited to our GASOC Global Medtech conference on 14th September 2019 at 10:00-17:00 at The Carriageworks Theatre, The Electric Press, 3 Millennium Square, Leeds, LS2 3AD.
The conference aims to unite doctors and other health professionals in the fields of surgery, anaesthesia and obstetrics with a shared passion for global surgery/global health.  We wish to highlight that medical technology is an essential component to improve healthcare needs in the low and middle-income countries. Now is a particularly auspicious time for such an event with the recent launch of 'Future of Surgery Commission' by the Royal College of Surgeons of England.  We are especially keen to increase awareness of this amongst students and trainees as we believe this is an area with great potential for meaningful involvement of juniors.  
The Global Anaesthesia, Surgical and Obstetric Collaboration (GASOC) is the UK based trainee-led group made up of surgical, anaesthetic and obstetric junior doctors. We are passionate about learning and sharing medical knowledge and experience to improve surgical outcomes in low and middle-income countries. GASOC was founded following the launch of the Lancet Commission 2015 with the overriding aim of meeting the goals set out in the Commission's 2030 Global Surgery report. We have support from and collaborate with Professor Chris Lavy, Lord Ian McColl and Sir Nigel Crisp.
The day will be split into two, with didactic sessions followed by a panel discussion and then a 'hackathon' where a global surgery 'problem' will be posed, and delegates will work in groups to come up with potential technological 'solutions'.  We hope to support the most promising of these in further development after the conference.  
We have a solid line up of speakers which include Professor David Jayne (Director – NIHR Global Health Research Group – Surgical Technologies, University of Leeds), Professor Jenny Dankelman (Professor of Biomechanical Engineering, Delft University), Ms Adriana Berumen (Medical Device Lead, WHO, Geneva). The conference will be attended by students and trainees from healthcare and engineering background from the UK and the developing counties who hold a keen interest in improving healthcare in the low and middle-income countries with the help of low cost, affordable, frugal technology. 
CPD Accreditation has been sought from the Royal College of Surgeons of England". The event is approved by the Royal College of Anaesthetists for 5 CPD points.
GASOC conference organiser
NIHR Clinical Research Fellow
Global Surgery Research Group - Surgical Technologies
PhD student – School of Medicine
University of Leeds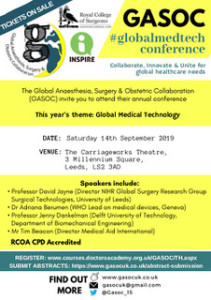 11-15 August 2019
The International Society of Surgery (ISS) / Société Internationale de Chirurgie (SIC) is proud to present the 48th World Congress of Surgery (WCS) – formerly International Surgical Week (ISW) – in Poland from 11-15 August 2019.
Engaging and insightful, the World Congress of Surgery 2019 will be unlike any other meeting. Offering scientific excellence in the field of surgery at an affordable price, the event will bring together many of the world's leading experts. WCS 2019 will also provide a platform for scientific and clinical working groups where they can collaborate to establish the foundations for future diagnostic and surgical challenges, and discuss novel approaches and standards, facilitating progress towards real-time, patient-oriented solutions.
4-7 September 2019
Viking Rural Surgeons' conference
Yearly conference in Iceland.
25-27 October 2019
Annual conference of DTC: Global Surgery – infections and education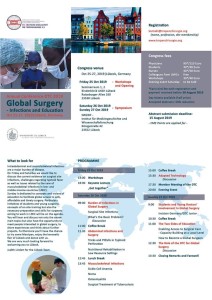 21-24 November 2019
Annual conference of ARSI
This conference by the Association of Rural Surgeons of India is at Bagalkot Medical College and the nearest airport is Hubli which is about an hour flight from Bangalore. Registration fee is INR 5000 ($75) and this includes all meals. There is a pre-conference cadaveric workshop for INR 500. Important personalities are invited to encourage practising rural surgeons and to motivate new surgeons to go to the peripheral places to offer their services. New useful technologies are being discussed. It is also a platform to discuss the problems of rural surgery.
—