29 September 2018
AIGT COURSE: Acute abdomen and bowel anastomosis & Wound care and tendon repair.
Course and workshop for residents AIGT (MD Global Health and Tropical Medicine).
Location Amsterdam.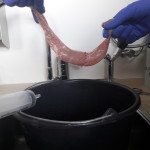 3-5 October 2018
The Nordic Countries have taken on leading roles within the global surgery movement. This will be the third Nordic Global Surgery meeting. By participating in this meeting, you will gain insight into several aspects of the field of global surgery. You will be able to meet and interact with professionals within surgery and anaesthesia from all over the world. We anticipate a progressive meeting where clinical and scientific partnerships of the future will form.https://ki.se/mmk/kalender/global-surgery-conference-2018
10-13 October 2018
Announced through WHO GIEESC and the Société Internationale de Chirurgie Orthopédique et de Traumatologie (International Society of Orthopaedic Surgery and Traumatology, SICOT):
39th SICOT Orthopaedic World Congress
Once again being held in the beautiful city of Montréal. Abstract submission is currently open.
For additional information: http://www.sicot.org/montreal
Later in 2018
Amsterdam Skills Centre, an innovative project by the AMC/VUmc alliance with training possibilities for national and international surgeons/ surgical residents.